A frosty evening in late March was not enough to discourage community well wishers from coming together at Lloydminster City Hall to welcome Krista Fox and her group of walkers on Monday evening.
A reception planned by Heart of Treaty Six saw presentations to raise awareness on the need for more action to combat missing and murdered Indigenous women.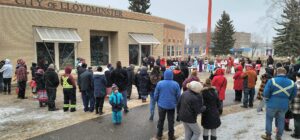 Fox and her group have all been personally affected as each has lost someone in their family. Fox says for over three years she has been helping people facing the tragedy of losing a loved one.
"Probably about three and a half years, I've been an MMIW advocate just supporting families, whether that's in searches and walks, in vigils, in court; wherever that may be. And then December 9th of 2020, my 14-year old grandson was murdered and it just became more for me and I felt like I needed to do more."
Fox started her walk in Victoria on February 18th; her 54th birthday and also what would have been the 16th birthday of her late grandson.
"He was my birthday gift to me 16 years ago. Unfortunately he only got to celebrate 14 of those birthdays. So we just started planning and getting things together and we hope over a 10-month period we will make our way to St. John's Newfoundland before Christmas, so that we are able to be home with our families for Christmas."
The group of walkers under the name Krista's Kilometres for MMIW is Diane Morin, the mother of missing Ashley Morin, Lindsay Bishop who is the sister of missing Megan Gallagher from Saskatoon and Lindsay's husband Derek Bishop.
Fox is active on social media and both her Facebook and TikTok pages will be updated as the walk continues across Canada.
The Federal government's website indicates that as of 2017, Indigenous people, in particular women, are more likely to be victims of crime. It states,"the rate of violent victimization among Indigenous people was more than double that of non-Indigenous people."
The National report into Missing and Murdered Indigenous Women and Girls and 2SLGBTQQIA people has delivered 231 calls to action to address what "it calls legal and social changes aimed at resolving the crisis."