Barr Colony Elementary School is just around the corner from the Bea Fisher Employment Supports building at 3901 51 Avenue and Pam Mather, Vice-Principal says they regularly see clients from the centre in their neighbourhood.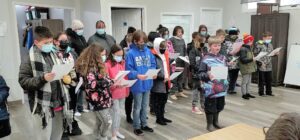 For several weeks, the 200 students at the school have been each making bracelets and cards to take to the staff and clients at Bea Fisher. Friday afternoon some of the grade fours and fives took a brisk walk from their school to the Bea Fisher building to share the kindness wins message.
Ten-year old Hadley Lepage was happy to be able to take their gifts to the Bea Fisher folks.
"It's nice to see all their faces and it feels pretty good. We kind of finished a few weeks ago and we waited for the right time."
The kindness wins month may have wrapped up but the lessons of giving back are staying with the students as evidenced by their eagerness to sing 'You've got a friend in me.'
Mather along with Sherri-Lynn Piesinger at Bea Fisher will be discussing more opportunities for neighbourly collaboration in the future.