Following the success of the fundraising efforts of the Battle of the Badges 2016 Todd Gustavson Memorial Tournament, there has been a cheque presentation at Lloydminster City Hall.
Representatives from Citizens on Patrol and Big Brothers & Big Sisters–the two organizations that are receiving funds raised from the event–joined Fire Chief Jordan Newton and RCMP Inspector Suki Manj for the cheque presentation at City Hall on Wednesday, March 16th. T
The Lloydminster Fire Department and the Lloydminster RCMP raised more than $11,000 for local charities through the tournament.
The Lloydminster and District Co-op, Redhead Equipment and Musgrave Agencies were title sponsors for the event.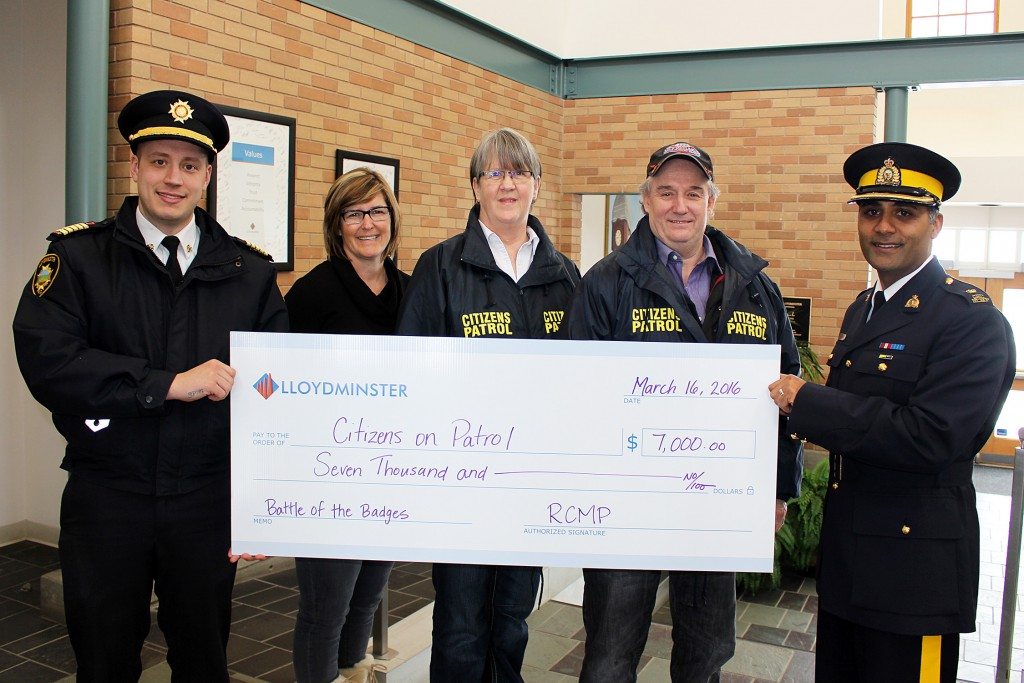 From left to right: Fire Chief Jordan Newton, Karen Musgrave, Musgrave Agencies, Heather Ballek, Citizens on Patrol, Don Larry, Citizens on Patrol, RCMP Inspector Suki Manj
From left to right: Fire Chief Jordan Newton, Karen Musgrave, Musgrave Agencies, Brenda Robinson, Big Brothers & Big Sisters, RCMP Inspector Suki Manj