The Livestock Marketing Association of Canada will open its annual convention in Lloydminster at the Border Inn and Suites running Thursday to Saturday.
Over 200 delegates are meeting in the Border City to discuss the hot button issues affecting the industry. Friday will see the national Livestock Auctioneering Championships being staged from 10 a.m. at Lloydminster's Northern Livestock Sales.
Executive Administrator for LMAC Rick Wright says a big issue is the transfer care documents which sees producers being required by law to implement this documentation.
"We're going to be talking with CFIA and they have one of their key people coming out to address our membership on where we are going with that particular issue. We have code of practice development that's happening for intermediate sites which includes auction marts. Of course we have shrinking cow numbers across the country due to the drought we experienced in the last year."
Wright adds they will be talking about the future and the challenges of running an auction mart going forward. They will have a panel discussion with four independent operators from across Canada including Lloydminster's Brent Brooks from Northern Livestock.
Wright addresses the issue of how the shrinking cattle population affects their industry.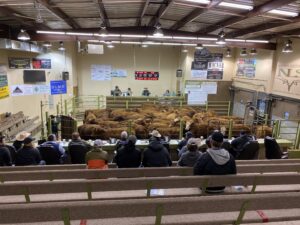 "We build our business off those cow calf operators and the calves that they ship to us in the fall or the spring. With the heavy culling that we have had right across western Canada in the last 18-months, that's going to affect our numbers moving forward and the supply of cattle that we are going to have the opportunity to work with."
Host committee member Michelle Brooks says that all the cattle for Friday's livestock auction are from the Midwest region.
"All the cattle for the sale are coming in from a 100-200 km radius and they all get sorted accordingly and put into different pens and they will come in for the order of the sale."
Thirty-eight auctioneers will vie for the title on Friday. They will each have to sell eight drafts of cattle. After the first round the judges will decide the top ten who will repeat the process to decide the winner, according to Brooks.
Saturday evening will wrap with an awards banquet at the Gold Horse Casino where Canada's top livestock auctioneer will be crowned.