The curious entrepreneur in Lloydminster is on the radar of Alberta Innovates.
This as businesses in east-central Alberta can access new funding through an investment of $787 thousand over the next three years.
Kara Johnston with Alberta Innovates says the funds are to help support entrepreneurs. They will be identifying the gaps that business owners are facing and once that determination is made Alberta Innovates will follow up with training, programs and other support services.
One issue they have identified is that businesses are looking for technology expertise.
"One of our first programs that we are launching is called the CTO program; the chief technology officer. We will be literally embedding somebody who has that chief technology officer knowledge and expertise. And we will be offering that person's services to companies who are looking to develop their technology capability."
Johnston who is a technology development advisor for Alberta Innovates sees this as helping regional companies to grow their technology expertise and knowledge.
She addresses the concern that as businesses delve deeper into things like artificial intelligence and machine learning, this is not to take away jobs but to make more time to do the tasks that only humans can do.
"Artificial intelligence is great at getting us really excellent data in a really timely manner. We don't have to worry about human error. We don't have to worry about somebody sitting and computing all day long. So it's an ability for us to have the data that enables us to make really good decisions when it comes to how we are going to move our company forward."
Johnston notes that companies can benefit from having the data to inform diversification,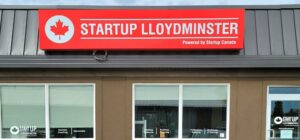 business opportunities and as well to learn, grow and expand.
The funding is being managed in the region through ECARIN, the East Central Alberta Regional Innovation Network which spans Cold Lake to Vegreville as well as Provost and Lloydminster areas.
Johnston says they have a staff member dedicated to managing the program in the region.
Entrepreneurs can get funding details through StartUp Lloydminster or by emailing the regional innovation network coordinator.