The drums reverberated in the gym Tuesday as students at Ecole St Thomas assembled for prayer, reflection and to raise a large dreamcatcher in the school's main hallway.
Grade seven's Seb McCarthy has been learning about Indigenous practices and helped in making the dreamcatcher as he expands his understanding of Truth and Reconciliation.
"It's a part of our heritage. We are Canadian. First Nations were here before us. We should learn their ways as they have adjusted to our ways."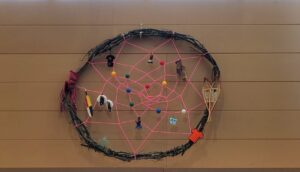 The dreamcatcher is about seven-feet in diameter, similar to another that was installed at Holy Rosary High School last fall. It has large beads and was made by students across the school division using materials gathered in the Lloydminster area.
Director of Education, Nigel McCarthy says the installation of the large dreamcatcher at the school is a tangible expression of the goals of Truth and Reconciliation, as well as a teaching moment for their students. He sees this as part of the education agenda going forward.
"This has really gained a focus over the last couple of years with changes to curriculum and changes to how education will be done in the years to come. I think once again our city is at the leading edge of some of those changes and the work that is being done here is a great foundation for our students."
Following the assembly in the gym, the students moved over to the school lobby to witness the installation of the dreamcatcher among other important banners that have been raised in the main thoroughfare.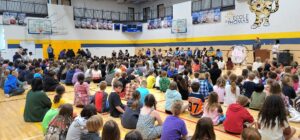 Aboriginal program coordinator with the Lloydminster Catholic School Division, Cynthia Young says the dreamcatcher has eight symbols, one for each grade from Kindergarten to grade seven. The children learned about each symbol. Young says she went to each class to explain what happened and the rationale for Truth and Reconciliation.
"They ask the questions. I had one little kid in grade two, he said,"Mrs. Young," he put his hand up and he said,"Did they kill those kids?" And I said,"Some of them, they did." And that's why it's very important for us to learn about this to make sure it never happens again."
The ceremony lasted just over 40-minutes as the children celebrated the raising of the dreamcatcher at their school.