City planners are detailing their summer fun planned for the 5-11 age group at Bud Miller Park and Servus Sports Centre.
The Walkn on Water Summer camps are being prepped by the programming and events team and comprise a variety of daily drop-in and weeklong camps for the kids.
Registration is open for weeklong camps at Bud Miller All Seasons Park (2902 59 Avenue)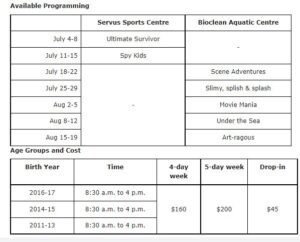 or Servus Sports Centre (5202 12 Street) starting July 4 through to mid-August.
Daily drop-in registrations open Thursdays at noon for the following week. If the weekly camps are not full, the daily registrations will only be open for one week at a time. Before and after-care programming is available for weeklong campers for an additional fee.
Registration details can be found on the city's website.
More program information is in the Summer Program Guide.