With the spray park now open at Bud Miller, city planners are readying the outdoor pool for its first summer splash.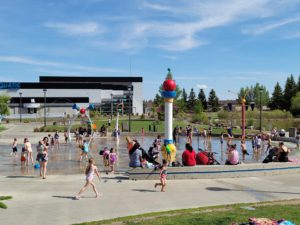 The recreation team says it will be a drop-in, first-come, first-served affair next Wednesday June 8th weather permitting. As well the tiny tot pool is tentatively scheduled to splash off on June 18th and will be open on weekends from 1-8 p.m., before opening up daily with the same hours in July and August.
The Outdoor Pool which is at 4713 57th Avenue features two waterslides and offers lane swim and public swimming for all ages. Weather permitting, the Outdoor Pool will be open from 4-8:30 p.m. Monday-Friday and 12-4 p.m. and 4:30-8:30 p.m. on Saturday and Sunday.
The pool office will be open at 10 a.m. starting June 27th. Anyone wanting to buy a seasonal membership is advised by the city to do so during this time. Outdoor Pool memberships can also be purchased at the Bioclean Aquatic Centre between 8 a.m. and 9 p.m or during the outdoor pool's regular hours.
More information is available on the city's webpage.