The North American Chuckwagon Championship is announcing the Gold Horse Casino & Border Tribal Council is the title sponsor for the 2022 show in Lloydminster.
The second edition of this nine-day event is slated for July 8th – 16th at Halstead Downs
Racetrack at the Lloydminster Agricultural Exhibition Association. Wagon drivers from both
the CPCA (Canadian Professional Chuckwagon Association) and the WPCA (World Professional Chuckwagon Association) will compete for prize money and bragging rights.
Last year's winner Logan Gorst will be defending his title against a field packed with world-
renowned drivers, say event planners.
General manager at the Gold Horse Casino Roger Anderson is expressing their pride in supporting the event as relates to the local economy, tourism, wagon fans and the
regional area.
"We are bringing people to this community and hopefully we get between the drivers, the spectators, the families, the friends; hopefully we get 6,000 people in this community over the week. And we expect more."
Anderson adds they see their involvement as a way to give back.
"There are many great things that happen to a community when an event of this magnitude comes to town, not only the economic impact and tourism but an overall
sense of togetherness and community."
Another attraction is their Meet the Drivers for families and supporters at the Gold Horse Casino on July 7th from 7-9 p.m. Then at 9 p.m. they will have the Cabaret featuring entertainers Loretta King and Just The Boyz at the events centre.
Also, organizers have positioned a wagon with an NACC tarp at the entrance to the Gold Horse Casino and are inviting supporters to take their selfies and post to social media with #NACC2022 for a shot at some swag and tickets to the finals.
Kim Carey, NACC Marketing says they are thrilled to have Gold Horse Casino & Border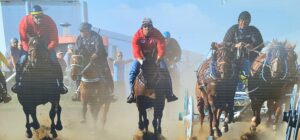 Tribal Council as the title sponsors to the 2nd North American Chuckwagon Championships and they can't wait to welcome everyone to Halstead Downs.
She sees the importance of family in the chuckwagon fraternity.
"Anybody that's been a part of wagons knows that it's very family-oriented. Your family travels down the road with you. They're integral to getting you down the road in just the day-to-day races. Most people see the minute or the minute and a half that the drivers are on the track. They don't see everything else that goes into it. It's two months of training before you even hitch your first race."
The North American Chuckwagon Championship will feature races running every night at 6:30pm, from opening night July 8th.
From July 13th – 16th, when the Lloyd Ex Fair begins, the NACC will run in collaboration with the Fair.
Tickets are available at the Lloydminster Agricultural Exhibition Association office or on the LAEA website.
More information can be found on the NACC Facebook page.