A picture perfect afternoon to fire up the grill with proceeds to Big Brothers Big Sisters and at the same time open new offices for the Lloydminster Chamber of Commerce.
Now celebrating 116 years dating back to 1906, the new space has an upgrade to the office technology to include the gear to better handle video conferences and digital connectivity in the post COVID economy.
Executive Director Serena Sjodin dishes on the new ergonomics.
"We also went with a mobile work environment. So we have a lot of sit-stand desks on wheels and then that way you can be standing in the main boardroom. You could be presenting."
The new boardroom is located on the first level and has lots of windows and plants with a view of the east side of Lloydminster. With the mobile stations staff can work from anywhere in that area.
President Jody Herbus is happy they are finally opening the new office as restrictions have been eased. He speaks about the importance of social connection with a return to brick and mortar in the post COVID world.
"Let's enjoy fellowship, talking to our team; talking to our co-workers together face to face. There is certainly a cause for virtual and that served us quite well during COVID because it kept things rolling along, but as these restrictions continue to disappear and get totally eliminated; let's hope that continues. I think it's so important for people to congregate together. Get together as much as possible. Safely obviously."
As the aroma of burgers and hotdogs filled the parking lot at their new office, Herbus is encouraging a shift from using the term networking to connection.
"I don't even want to hear the word networking. I want to hear the word connection. Come out, meet someone new today. Go sit with a person you don't recognize. Go talk to someone that you have never met before."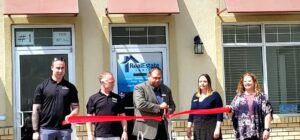 Mayor Aalbers with the use of large scissors led the official ribbon cutting exercise for the new chamber office.
"I think the work they do to represent the business community at the municipal, provincial and federal level is incredible. They carry the messages of concern, the issues of the day that businesses are experiencing to us. And I very much appreciate the opportunity to fully dialogue on a regular basis and work with them on those issues to try and bring resolution."
The Lloydminster Chamber of Commerce office is now located at #2 – 1808 50th Avenue.