Two new faces are onboard at the Lloydminster Native Friendship Centre.
The new executive director is Patsy Waskewitch from Onion Lake. As well they are introducing Mackenzie Durocher as the youth coordinator.
Waskewitch is three months on the job. She has family ties by marriage in the Poundmaker First Nation and hails from the North Battleford area. She says it gets very busy at the Native Friendship Centre with the influx of people and as well the administrative work.
One the issues they battle with is funding. Waskewitch says they are thankful for the support of Alberta Native Friendship Centre.
"They do provide funding for some of our programming like our youth centre. We have the student support learning program that is new this year and that is geared for our high school students."
The coordinator for that program works with the students. They seek to find out the barriers to youth graduating from high school. Waskewitch says trauma in the lives of the youth is a concern.
For Durocher who started her youth work in May, she has hit the ground running with their after school programs to the end of June. Summer camps are being fine tuned for July. She is originally from Dore Lake in northern Saskatchewan and lives with her family in Maidstone.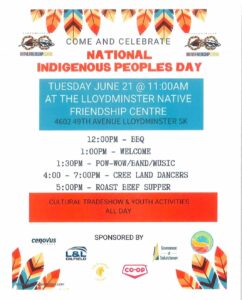 The centre is prepping for several activities for June 21, National Indigenous People's Day. Durocher is keen for youth involvement.
"We are going to be hosting some youth activities which are going to range from arts and crafts to street games and block party game activities like lawn games and stuff like that set up."
June 21st will be the first big event for the new administrators at the centre. They will be blocking off the section of 46th Street between 49th and 50th Avenue that they share with the Halls Holme Seniors residence as several of their neighbours will be there to partake in the activities which start from noon. They will be setting up a stage and as well a market area for local artisans.
Waskewitch says they will have powwow singers, drummers and dancers as well as a band and local jiggers. She celebrates the teamwork of their community and the volunteer spirit that she has witnessed firsthand.
"In the three months that I have been here, I've noticed how people come in and clean and do stuff. And they take pride in this building and that makes me feel really good."
The Lloydminster Native Friendship Centre is inviting everyone to be a part of the celebrations on June 21st. More information on their programs and summer camp is available on their website and social media.