A new recreational space will decorate the grounds of the Lloydminster Exhibition thanks to funding from the Co-op Community Spaces program.
Eighty thousand dollars will be contributed to a phased development of the new area at the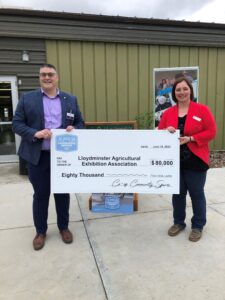 centre of the Lloyd Ex Grounds. The Co-op Celebration Park is a phased development comprising an outdoor gathering area featuring a three-tiered pergola, with the option for an outdoor stage, kids playground, fire pit, walking path, and other amenities.
Jackie Tomayer, General Manager of Lloyd Ex says the funding will help to rework some of their outdoor spaces.
The investment will make these "sites perfect for hosting families, special events, gatherings, and more. Lloydminster is home to over 30 parks and greenspaces, but here in the north-eastern quadrant, there are less than eight. An important component of our vision is to establish an accessible, inclusive playground area for families in this part of the city to enjoy," says Tomayer.
"Co-op Community Spaces aims to bring people together by supporting communities," says Peter Brown, CEO of Lloydminster and District Co-op (Lloyd Co-op). "After the challenges of the pandemic, we're thrilled the community of Lloydminster, in particular the Lloyd Ex, was selected for project funding from the many applicants to the Co-op Community Spaces program. This investment is one more way Co-op proves they're making a difference in members' lives across Western Canada."
This is the third investment in the region through the Co-op Community spaces program. The Golden Valley Community Centre (south of Lloydminster) received $26,000 for the renovation of the community centre and outdoor recreational spaces in 2018. In 2019, Lloydminster received $140,000 to resurface the outdoor track at Armstrong Field  at the Lloydminster Comprehensive High School.