The bragging rights from the competitive spirit is driving some middle schoolers to excel at setting up a teepee in record time.
For National Indigenous Peoples Day, kids from ES Laird and some from Bishop Lloyd held a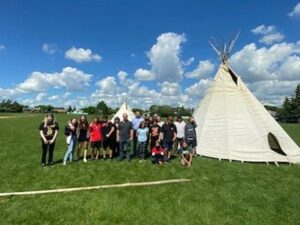 fun face off to see which team could get their teepee erected first, with judging from LPSD educator Clint Chocan.
For a first time effort the group of ES Laird students led by Ryder Rachinski brought the win home. She says their original time was 26:36 minutes but with time added on for deductions they were scored at 30:34 minutes.
"Our motivation today was just to win pride for our school. We needed to win; all the
bragging rights. So now our school ES Laird set up the fastest teepee for the year."
Bishop Lloyd with deductions finished in 30:36 minutes.
Chocan explained that the scoring was based on the distance from the ground to the bottom of the teepee, the spacing between poles, the tightness of the canvas as well as that of the rope at the top, teamwork and the direction which the doorway faces.
"In Cree culture, most of our events and ceremonies that we follow, always follow the sun. And most ceremonies begin to the south and the door is always facing the south."
With the school year widening down, the overall enthusiasm of the students like Rachinski was evident as they celebrated the learning on the day.
"I think it's just kind of special to bring awareness to the people that were here before us and I think it's really cool that we are able to come here and do some hands-on activities and really just embrace the culture that was here before us."