A full day of Indigenous learning filled the slate at Fr Gorman Community School as LCSD students deep dived First Nations and Métis heritage.
Drummers, dancers, jigging, bannock, fish filleting and meat smoking all crammed
into their day.
President of the board of directors for the Lloydminster Métis Housing Group Carla Fielder was one of the many contributors. She says the day also incorporated storytelling, land-based learning, Indigenous art and prayers led by Elder Shirley Gervais.
She adds the day means a lot to them and fellow community partners.
"It's getting out in the community and raising awareness and being acknowledged for being on Treaty Six territorial lands or traditional lands. And being recognized for Truth and Reconciliation and coming together with everybody."
Kids from grades four through seven learned about natural healing and medicines and also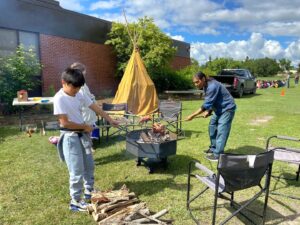 got to see samples. They got to delve into hunting and fishing as well as cleaning and cooking fish. As well the hunting and tanning of moose hide and the uses of it. For example, meat from a three year old moose could feed the average family for a year.
The painting was one of the standouts for grade seven student Gabrielle Munro.
"People when they paint, they paint something that has meaning to them. And you just go with the flow. It doesn't have to be perfect. And then we learned how to take the animal fur off the animal hide. We tried doing that with a moose. And then we learned about one of the old smokers before they had actual plug-in smokers. And we got to try some of the moose meat, which was really good."
The students enjoyed activities where they got hands-on experience and as well were able to participate, as evidenced by the decibel level in the gymnasium during the drumming and Métis jigging.
Parker Bhrthel from grade seven expressed his gratitude to all the people who came to share their knowledge and talent.
"I think it's pretty cool that we get to learn and hear about stories and how to do things; the medicines and the items. I think it's pretty neat that everybody came down from North Battleford just to do this for six or seven hours."
Indigenous coordinator with LCSD Cynthia Young and her husband Elder Mike Young led several of the land-based sessions dealing with hunting and smoked meat preparation. Jen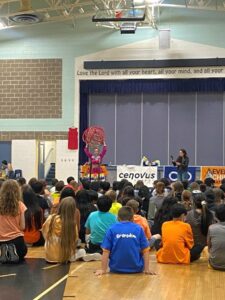 Nicotine, a teacher from Sakewew High School in North battleford coordinated elementary and high school students from her area in the Powwow. Cam Foulds and Andrew Peeaychaw showed the kids fish filleting. Rod Apisi had the duck feathering station. Grant Whitstone from Onion Lake did the storytelling and the Creeland Dancers from Saskatoon performed Métis jigging.
The Lloydminster Métis Housing Group also presented Fr Gorman School with several books to continue learning through an Indigenous lens.
The day which started at about 9:30 a.m. closed at about 3 p.m. with Métis jigging.