Lloydminster downtown businesses are teaming up for a block party every Thursday evening in the city's core.
One of the planners is Dawn Hames who says they are ramping up efforts to revitalize the downtown area.
"It's breathing life into the heart of our city. Its promoting local and that is local singers, local artists, crafters, local small business and it's all to do with breathing life into the downtown."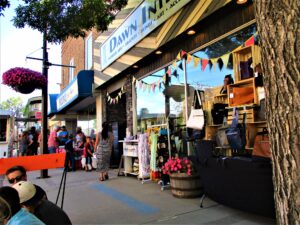 The Hive, the Scarlet Thread, Cliff Rose for Clothes, Dawn Interiors and others are all onboard for the block party running from 4:30 to 8:00 p.m. There will be live entertainment and food trucks to punctuate the festivities.
Hames says the music will play alternately from both sides of 50th Avenue.
"There are two locations for music. One will be in front of my store and one will be in the Cliff Rose parking lot. We have some local artists. They are going to set up their easels and they are going to paint. Some of them will have their artwork for sale. So it's really an experience of our own local culture."
The music lineup includes the Nobodies, Zandra & Callie, Meryl Tenney and Kelly Kenyon, Gospel Tongues of Fire and Mekenna Gallagher.
More details can be found on the Beautiful Downtown Lloydminster Facebook page.