GM and head coach with the Lloydminster Bobcats Nigel Dube is confirmed for another five-year term.
Dube came to Lloydminster in November 2018. The board tasked him with making improvements both on and off the ice. They note that Dube has made "big steps in both areas and continues to grow the club," ahead of their 40th season.
In a release the Bobcats organization notes they "have established strong relationships with both the Lloyd Elite Hockey and Lloydminster Minor Hockey working with both groups in development and mentorship."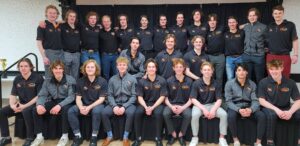 Post-pandemic "the team moved to a record of 30-26-4," with seven players going on to post-secondary hockey careers.
Dube salutes the team effort saying,"It's the people that create success whether that's on the ice or off the ice."
"We have a great group here from the board and the staff. When you look at it, there has been a core group of players and staff and we want to make sure that we continue to move forward with that."
Dube says they are excited about the relationships they have built in the community as they look to further develop those connections.
"It's exciting; growing a big love for the community here. I think it's a big hockey community, but it also has a ton of caring people from fans, volunteers, sponsors and billets. I think that's the part that's the most exciting about it all, just the people that make the city that it is."
With players returning for the main camp on August 26th, Dube is upbeat with the prospects for the new season.
"I think just continue to build from last season with the players that we have brought in over the time; the last three and four years here to where we are today, and continue to grow on that for an upbeat hockey team that likes to play fast, that likes to play fun and an exciting team to watch."
Dube will become the longest serving GM and head coach this season.
The team's first home game will be on September 16th against the Whitecourt Wolverines.