MLA Brian Jean along with four of the seven UCP candidates vying for Alberta's top political office got some one-on-one time with voters in Vermilion on Monday evening.
This as the Vermilion-Lloydminster-Wainwright UCP hosted a candidates forum at the Vermilion Regional Centre.
Some 250 people witnessed the main session from the stage which was followed by smaller group sessions where attendees were able to raise their concerns with the candidates in five different groups.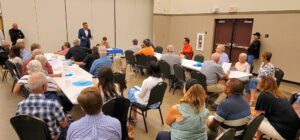 Other candidates in attendance were Todd Loewen, Rebecca Schulz, Danielle Smith and Travis Toews.
MyLloydminsterNow will be sharing the perspectives of all these candidates over the coming days as they vie to be Alberta's next premier.
Jean is campaigning on autonomy for Albertans and wants to make its residents "the happiest, healthiest, most free and prosperous people anywhere.
He says that Canada is broken. He adds he is not a separatist and suggests how the brokeness can be fixed by going back to the country's written agreement.
"Under section 46 of the constitution. We can give notice under section 69 of the referendum case from Quebec which sets out a series of steps that we can take. We can go to the federal government and the other provincial premiers and tell them that we want to open up the constitution and have discussions."
Jean added that, "we can't take any cards off the table" in negotiating a better deal for Alberta. However he believes, "we are better and stronger together." He discussed building consensus between the east and the west.
"The best way to get that is to make sure that Alberta is a leader in confederation and setting the stage and setting the agenda for the rest of the country so that they can follow us to the opportunity for autonomy and freedom."
Jean emphasized his work as a member of parliament and his relationship with Pierre Poilievre at the federal conservative level as putting him in good standing to lead the province.
The United Conservative Party is expected to choose its new leader on October 6th. The two candidates absent on the evening were Leela Aheer and Rajan Sawhney.