Summer sunshine and fun as Parkview Playground got its official opening from the city on Wednesday.
Neighbourhood kiddos and parents around 6921 – 35 Street who have been enjoying the space for the last little while took in the fanfare of donuts and summer snacks which added to their favourite playspace.
Children like little Everley who was there with her family say they simply "love it."
"This is my first time being here and I really like the monkey bars, how they are different and I like the house because most of the parks don't have a house like that."
Senior manager of parks and green-spaces with the city of Lloydminster Jordan Newton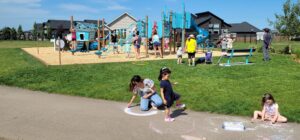 expressed the city's delight at being able to celebrate the new play space in the Parkview neighbourhood and notes the effort of the recreation team is ongoing.
"We're always working on new parks and green-spaces throughout the community. There are no more play structures being installed this year, but there will be more in future years."
With the sounds of kids having fun in the summer sun, city planners and parents are relishing the moment of kids enjoying the new investment in the community.