Jenna McFadyen from Waseca snatches a bronze medal for Team Saskatchewan in the women's 3000 metre steeplechase event at the Canada Games in Niagara, Ontario.
In the mid-afternoon weather at Canada Games Park Wednesday, the 19-year old finished in a time of 10:30.55. Catherine Beauchemin of Quebec won the event in 10:09.69 and B.C.'s Maya Kobylanski took the silver with a 10:21.01 finish.
The medals were presented Wednesday evening.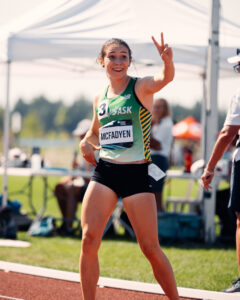 McFadyen, whose club is the U of S Huskies / STFC finished ahead of her Saskatchewan team mate Kaitlyn Harrison from  Lumsden who placed fourth in 10:35.58.
Team Saskatchewan has 14 medals after 12 days of competition with seven being silver.