A temporary suspension of walk-in service at the Prairie North Health Clinic has been called off.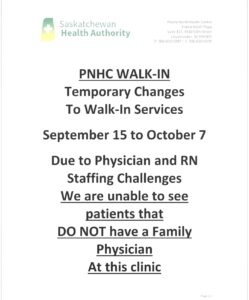 In an email to MyLloydminsterNow, the SHA says, "The PNHC has worked closely with service providers and SHA staff to ensure its services will remain uninterrupted."
The clinic had posted on Facebook last week that walk-in patients who do not have a doctor at the facility would not be admitted during a three-week period from Sept. 15 to Oct. 7.
The clinic's post cited physician and registered nursing challenges as the reason for the
temporary changes. A follow-up post indicated that "for the moment all services remain the same" and they are "working to mitigate" the previously announced "service disruption".
Chair of the Lloydminster and District Health Advisory Council, Paul Richer lists the shortages he sees in health-care when comparing Lloydminster to similar-sized jurisdictions in Alberta and Saskatchewan.
"Lloydminster and this region has been short on long-term care beds for seniors; has been short on ambulance services until recently, has been short on medical file sharing and proper sharing of files, so Saskatchewan residents and Albertans can get treated when they do have a doctor. We have been shorted on renal dialysis chairs. We have been short on operating rooms."
Richer references the Saskatchewan Health Minister Paul Merriman who was recently quoted as saying, "I think Lloydminster has a very good health-care system." The comments were made in an article discussing health in the Border City and the policies involving Alberta and Saskatchewan dating back to the 2000s and prior.
Richer, having listed the health-care shortages, is taking issue with the health minister as he quotes Merriman from the recent Saskatoon Star-Phoenix article.
""I understand they have their opinions and I respect their opinions. But I disagree. I think Lloydminster has a very good health-care system," as said by the Saskatchewan health minister Paul Merriman. The point is, letters by the thousands and calls have to go to Saskatchewan health minister Paul Merriman because he believes we are totally fine in Lloydminster."
Meantime, the SHA in its email concludes, "The clinic (PNHC) did report a possible disruption last week, but is happy to report that circumstances leading to that possible disruption have been resolved."