It will be trick or treat from trunk-to-trunk as the Lloyd Ex and Lloyd Co-op are teaming up for a family friendly Halloween festivity on Oct. 27.
Director of marketing and community relations with the Lloydminster and District Co-operative Kristine Knourek says the event will be indoors at the Culligan Water building allowing kids to trick or treat from trunk-to-trunk regardless of the weather outside.
"Our idea is to invite businesses, charities, non-profits, schools, families, teams and clubs to register their trunk with Lloyd Exhibition grounds. Children and families will be invited to come and go from trunk-to-trunk collecting goodies and candy in a safe indoor, inclusive environment."
Knourek adds for the free event, people may decorate their trunk and dress their kids in their Halloween costumes, being mindful of younger age-groups present.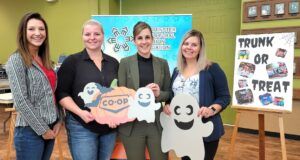 "Keep it friendly, keep it kind. There are little kids coming. We don't want it to be super-scary or super gory."
Jen McRobert, event administrator with the Lloyd Ex says they are looking forward to seeing the costumes when they open doors at 4 p.m. on the day of. She shares details on the types of vehicles that can motor in.
"On our entry packages, you do have options that you can bring either a small car or a small SUV. We are opening it up to different community members as well. So say, if a tractor organization would like to bring say a small lawn-tractor in, they can bring those in as well, but they must have some sort of box attached to it, like a bucket or something that they can provide the candy in."
McRobert adds if people want to make a non-perishable food donation to the local food-bank, they may bring it in on the day of the event.
Registration of vehicles will be accepted until Oct. 24. Residents may register in-person or call the Lloyd Ex at 306-825-5571.