Self-published author Desirae Messmer is giving some of her book sales to the Goat's Christmas Wish.
The grade 11 student who wrote the picture-novel "The Monster Hunt" when she was in grade seven wants to pitch in for families over the holidays.
"Every year, during Christmas time, my mom always makes Christmas very special for my sister and I – and I was hoping to donate five-dollars from every purchase of my book to the Goat's Christmas Wish, so that I could help someone else's Christmas be special."
The book tells the story of two friends hunting a monster only to discover that they are being misled. A sequel is presently in the works.
When the book was published, copies of it were sold in faraway Europe and Hawaii. The young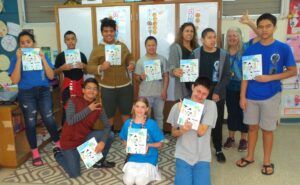 author had the opportunity to travel to Hawaii and read to a special needs class. She was able to connect a youngster from that class who was a talented artist with a local writer who at the time was looking for an artist to render drawings for a forthcoming book.
"My grandma's condo-neighbour was an author who was looking for someone to illustrate and draw pictures for his book. And I told him that I knew this really great artist, and I got them together. And now he is doing beautiful drawings for the author," says Messmer.
The young author will be at the Flaming Iron and Arts booth at the Lloydminster Christmas Craft Fair this weekend with copies of her book. Residents can also get a copy of the book at Triland Welding & Machine Ltd, 5316 – 51 Street.