Over the weekend, Holy Rosary High School teams brought back some metal for the trophy cabinet prompting celebrations that will spill into Monday.
It was the sixth time a charm as Holy Rosary High School Raiders lifted the Tier three Alberta football title.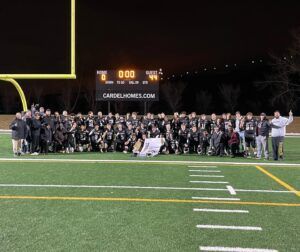 What was described as a Cinderella ride for their opponents came to an end on Saturday Nov. 26 as the Raiders downed the number six ranked Strathmore Spartans 44-0. The Raiders led 23-0 at the half.
On the volleyball court, the Holy Rosary Senior girls team took the bronze medal in the Alberta Schools' Athletic Association finals against Strathcona Christian. The score was 25-13, 25-20 for Holy Rosary.
Students are being invited to wear their Raider gear to the gym on Monday Nov. 28 for celebrations beginning at 9:40 a.m.