Young designers from Holy Rosary High School will have their artwork adorn the front cover of Synergy Credit Union 2022 annual reports.
Joint first place winners each receiving $500 for their efforts are Lara Pavo and Hannah Barnes. As well, joint second place winners Nathan Eckel and Lucas Feeley each took home $250.
The Synergy brief called upon the students to give a fresh take on themes like community involvement and develop a graphic that can be used on the front cover as well as for a calendar, website and social media.
Grade 12's Lara Pavo says it took some time for her to conceptualize a new spin on the community theme.
"In this class, I could just see how talented the local photographers are – like my peers.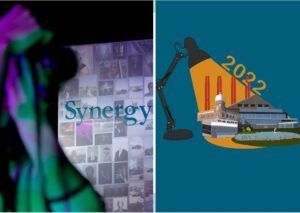 And I really wanted to highlight that. I made a collage on the wall of all the photos that my classmates have taken and that my teacher has taken. So I just thought that local photographs were a cool way to show community – and it worked out pretty well."
Marketing assistant with Synergy Credit Union Kirsten Stang explains the next steps for the students' designs.
"These are annual reports that come out every year and one student will be featured on our community book and the other student will be featured on our financial book."
The publications are expected to be out early next year.
All of the students who participated in the contest received gift cards from Synergy.