The City of Lloydminster is now in its second round of residential snow removal for this winter season and Dave Henning who has been director of transportation for six years describes the volume of snow as "a high average."
"In the first snow removal, we hauled over 200,000 yards of snow," says Henning. By comparison, last season crews led two residential snow removals for some 230,000 yards of snow, adds Henning who indicates the city budgets about $860,000 for residential snow removal for the season.
"We have 42-pieces of contractor equipment hired. And then I have another 10-pieces coming on next week for this current snow removal. We have had three snow falls within that time. Once we start doing residential snow removal, we like to complete it. And like I said, this year there is a lot more snow than usual. For the years that I have been here, this is the first back-to-back snow removal that we have done."
Henning says the first pass was on Nov. 21. Crews tried to get at downtown before Christmas, but the operation was hampered by the cold temperatures. However, he says crews were able to clear downtown just before the new year. The second residential snow removal started Tuesday Jan. 3.
Henning added the city employs several private contractors since it is more cost effective than owning and maintaining the extra snow removal equipment. Also, city crews are using two snow dumps, one on 40 Avenue and the other on 75 Avenue.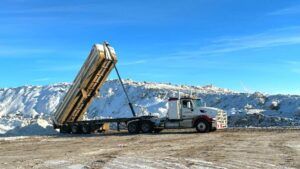 The challenges they face include the cold weather which affects the hydraulics. Henning says the cold slows the performance of the equipment and they run the risk of damage. Also, he says they would like residents to be mindful of when the snow removal signs go up and not park vehicles on the streets so that the crews can complete the job.
"When we put up the big red signs, we put them up on corners leading into subdivisions. It does take time to do it (remove snow). There's no doubt about it. And we do ask that people are conscious of this and try to keep their vehicles off the street because then the equipment doesn't have to go around it – they can do a better job on the street. There is less chance of an incident or accident."
With an eye on safety the transportation director recommends drivers to maintain a safe distance behind snow removal equipment.
"Please try to stay back at least eight-metres. Some of that very large equipment – you get in behind it, they cannot see you."
Henning added city crews have already cleared all the school zones ahead of the resumption of school next week.