Six new banners have been hoisted at College Park as some 600 students packed the gym on Tuesday to celebrate the wins of their athletes in 2022.
On the honours list at district level are:
Intermediate Badminton Girls – Katherine Thiessen
Bantam Boys Track & Field – Ace Brewer, Carsten Campbell and Matthew Bailey
Intermediate Girls Track & Field – Katherine Thiessen
Intermediate Boys Track & Field – Nix Andersen
Peewee Cross Country – Elle Campbell
Intermediate Boys Cross Country – Carsten Campbell
Jr. Girls Volleyball
Provincial medals went to:
Nix Andersen – Intermediate Boys: 800 metres – 11th place in 2:19.46, Long Jump – 4th place with 5.65 metres, Shot Put – 6th with a distance of 12.26 metres and a bronze in the 4×100 relay.
Katherine Thiessen – Intermediate Girls: 100 metres – 8th place in 13.50, 200 metres – 6th in 12.80 and Long Jump – bronze with 4.81 metres.
Both Thiessen and Andersen are now at Lloydminster Comprehensive, but were glad to be back at their old school.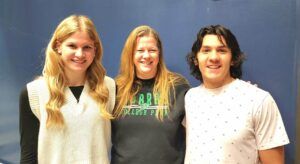 Andersen sees himself as an all-round track athlete as he expands his pursuits at highschool and keeps a good balance.
"I did running events, long distance, sprinting and jumping. Once track season starts at the Comp, I'll be practising and getting better at those events – and trying to fit school and other sports like hockey."
Thiessen stays on a schedule to maintain her sporting rigours and academic life. She and Andersen are grateful to her mom and coach Christine.
"I want to thank my coach – my mom for coaching me and yelling at me and stuff to push me."
Athletics director and coach Christine Thiessen says both athletes have been active in numerous sports since grade five and she attributes that allround involvement to their success.
"They had a really great support system behind them and they participated in every single sport that they could. So you can't get better at anything unless you are involved in stuff and the multi-sport athlete should be every coach's dream because they can apply skills to so many different levels."
Coach Thiessen is working with basketball, badminton and track and field programs at College Park as well as pitching in with track and field at Lloydminster Comprehensive.