It's opening day for a new display at the Lloydminster Museum and Archives.
The glamour and intrigue of exploring the frontiers beyond the stars is being balanced by the health aspects facing astronauts who dare to journey where no one has gone before.
The new exhibit spotlights issues surrounding working and living in variable gravity, radiation and isolation while in space.
Collections coordinator Holly Durawa says Health in Space brings perspective on the health rigours facing space travellers.
"The intersection of health and the intersection of space. So how do astronauts get healthy and go to space. How do they stay healthy in space – and then what happens to them after they come back down to Earth and space has wreaked havoc on some of their systems, because you don't realize the importance of gravity until it's not there anymore."
Durawa adds the exhibit also highlights learning around issues like osteoporosis and cancer treatments based on what has been discovered from the health experiences of the astronauts.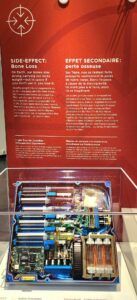 The exhibit comes to the Border City from Ingenium in Ottawa and features astronauts David Saint-Jacques, who conducted several experiments while on the International Space Station and Chris Hadfield and offers learning around Canada's role in advancing research that is pertinent for future explorations of the stars.
One highlight of the two-month educational piece will an Indigenous look at the night sky which will be led by Jennifer Howse from the Rothney Astrophysical Observatory in Calgary, explains museum programmer Jenna Berild-Cleary.
"She will be leading an Indigenous Interpretations of the Night Sky program on the evening of Thursday Mar. 23 from 7-9 p.m. She has a lot of experience in teaching young learners and the public. She has learned from Indigenous Elders and Knowledge Keepers. And being part of the Métis Nation herself, she will be sharing about Blackfoot and Cree perceptions of the night sky."
Other key events in the exhibit's run will happen during the February school break for ages 8-11 on Feb. 21-23 and for ages 5-7 on Feb. 24. adds Berild-Cleary.
"The 5-7 year olds will be able to participate in a very fun day filled with STEM activities, art and more. And for the older kids, they will experience three days of STEM activities such as building circuits and astronaut clubs. They will create rovers and even more."
The exhibit runs from Jan. 21 to April 16. More information and registration details can be found online or by calling 780-874-3720, and as well the museum's social media.