Caution: Subjects covered in this story may be troubling to readers. 
In the spirit of Truth and Reconciliation a painful aspect of Lloydminster's past is being acknowledged and creative ways of bringing healing are being led by a group of women including artist Brandi Hofer.
Speaking at the Inspiring Women's Conference at the Lloydminster Exhibition on Thursday, Hofer revealed to an audience of over 300 attendees that several women with input from the Lloydminster Region Health Foundation and Heart of Treaty Six are leading an effort to bring healing by painting a 2600 sq. ft. mural on the north wall of the Prairie North Health Plaza.
The significance of this is that in the city's past, an imaginary line was drawn on the north side of Lloydminster where Indigenous people had to camp when they came to town to get supplies, says Clint Chocan with Heart of Treaty Six.
Hofer says she is inspired to use her creativity for positive change.
"I always think of this quote by Gertrude Stein. She said,"The subject matter of art is life. Life as it actually is. But the function of art is to make life better." So how can I be inclusive and make the world a more beautiful and loving place. And that's through my creative gifts, so how can I use that to bring people together."
Speaking to the women present, Hofer said, "You are the heartbeat of the community."
Together with Rikki Ducharme and her sister Randi Noble of Yellow Finch Images – whose photos will be used in the mural, Hofer explains they will have further involvement of Indigenous artists.
"We're running a mentorship program for Indigenous students and creatives to apply and they will help install the mural too. And they will receive a scholarship toward education."
Hofer will be donating part of her artist fee to trauma and healing programming in the community through Project Sunrise and also for creative Indigenous programs in the schools.
The mural is expected to commence on June 30.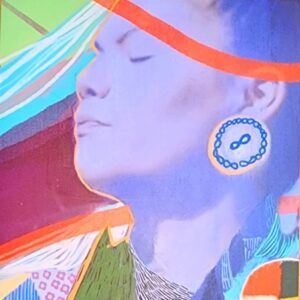 Hofer adds she has also been inspired by community member Lana Lane with whom she has been volunteering and their conversations have deepened her resolve.
"It's not just a mural – it's about a people. A people are in pain. And a people have been in pain for a long time. There's been a stripping away of culture in our country and around the world. So it comes down to how I can be an ally and how others can be allies."
Full details of the design and images on the mural, as well as making donations to the Choose Love and Join Hands in Truth and Reconciliation Mural Project are available on the LRHF website.