A day of celebration and kudos all around as Lloydminster Catholic School Division, bussed in students from all its elementary schools over to the high school for the opening of the new school wing.
The LCSD community celebrated the input of contractors, donors and supporters as students applauded all the efforts that had gone in to deliver the ideas they suggested for the Holy Rosary high school expansion.
School principal Jeremy Blais who is in his first year at the helm is excited for the prospects of the open concept design as the school population is expected to grow to over 1000 in the fall.
"Our art room loft is really open and there's also some student areas where they can hang out and study and be a part of our Holy Rosary culture. We have some very exciting science labs and also a kinesiology room. All of our classrooms have a lot of technology in them as well, so our teachers are really untethered and they can move around and help all of our students that way."
The $10 million build came in on time with input from both provincial governments as well as community partners like Synergy Credit Union, Archer Daniels Midlands (ADM), Barr Engineering who put up the eight beams that support the ceiling and allows in the natural light into the Venetian square space and architectural work from Wallace-Klypak.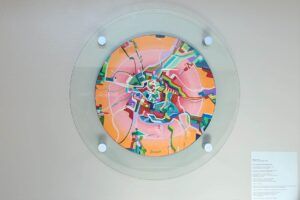 A stunning new art piece from the Alex Janvier Art Gallery was also unveiled at the top of the main staircase that leads to the second level of the wing.
Speaking on behalf of the government of Alberta, MLA for Vermilion-Lloydminster-Wainwright, Garth Rowswell saluted the role of the finishing carpenters to bring in the final touches. He noted as well the importance of trades especially given labour shortages in those skills.
"We need trades and to learn this in high school – I know I went to a high school that had an academic part and a trades part in Edmonton and the students that took advantage of that the most are the ones that actually extended a year and took the trades and the academics. And just to have the opportunity – so many places don't have that. And now they have that here. So it's just really forward thinking."
Other community partners involved in the expansion included Baytex Energy and Quorex Construction.
Teachers and students have been in the new space for about two weeks already. There will be more phases of the expansion to bring online including the students powering up the coding and gaming options and representing Holy Rosary in Esports.