Over two-years of work is revealing its visage as the Faces of Lloydminster art project begins appearing at several locations across the city including Synergy Credit Union.
The brain-child of sculptor Mick Classen, the project will see at least 14 to perhaps 17 six-by-four-by-two-foot concrete sculptures of faces being painted by Lloydminster artists and then displayed at various locations.
The faces are being created in a workshop at Residents In Recovery and this has allowed some of their clients to learn the skills of moulding from concrete through the mentorship of Classen.
Artist Kurtis Pahtayken has been painting all his life and was at school at Lakeland College when he got the call up for the Faces of Lloydminster.
"I just take silhouettes and play around with them. And for the eagles I used the mirror image. So I was able to use a projector screen method to transfer all the images to get the project done faster."
The Onion Lake artist will be working on two more faces, one for Lakeland College and the other at St. Joseph's Elementary.
Both Lloydminster school divisions are involved with numerous young artists getting a chance to have input on a facial sculpture that will eventually go up at their school.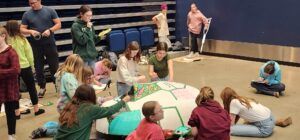 Places for permanent displays include Lakeland College, Avery School, College Park, Ecole St. Thomas, St. Mary's Elementary, Father Gorman, Mother Teresa, St. Joseph's, Holy Rosary, Lloydminster Native Friendship Centre, Residents in Recovery, Gold Horse Casino, Musgrave Agencies and Synergy Credit Union.
Branch manager Gord Thiel says that the Synergy involvement in the public art effort goes beyond the sponsorship funds.
"We do a lot of support in various areas including sports, youth, education, health. This was a chance for us to be able to support and give some exposure to the art community which is really important. I'm really glad to see how much it is coming together. It's sounding like once Kurtis is done with the face that we are going to display here, Brandy Hofer and Michelle Lake are going to come in and work side-by-side on a couple of other faces that are going to be displayed elsewhere in the community."
The artists include several students as well as Brandi Hofer, Michelle Lake, Mario Sevigny, Nelson Stone, Graham Flatt and Harwell Teves.
Classen, who has been working with the clients at Residents in Recovery where the sculptured faces are being moulded, says that the fibreglass reinforced concrete faces weigh about 300 pounds.
The artistic effort is grateful to all of the community partners including Synergy, Lloydminster & District Cooperative, Gold Horse Casino, Musgrave Agencies, MNP, Lakeland College, LCSD, LPSD and Lloyd Mall.