With the grand prize being a cutter, cash or a harness over the years the Cutter Rally for Cancer has been a fixture in late February for 19 seasons and this year the fundraising efforts are going to several causes including the Lloydminster Region Health Foundation.
This year the cutter was won by Robyn Wheat.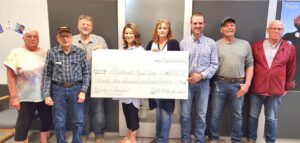 The fundraiser is adding $23,126.39 to the LRHF. Also getting a funding injection is Haying in the 30s Cancer Support Society of Mallaig, Alberta with $5,781.70.
The LRHF dollars is divided between:
Professional Development Bursary for nurses – $14,453.39
New equipment fund – $8,673.00
Co-chair of the event Mike Sidoryk sees the importance of being able to contribute to support of those battling cancer.
"Our fundraising opportunity gives us that chance to support the cancer care ward, where really people at their toughest times are needing some nice equipment to work within and sit down and get their chemo treatments. It's nice for us to be able to give that opportunity and give back to the community in support of cancer care. It touches everyone's lives."
Co-chair Tammy Hampel thanks the volunteers for their multiple efforts and notes how much the rally has grown over the years.
"It's changed so much from where we started. It really has grown and expanded. Adding the corporate donor program last year was a big step. That definitely had an impact on the funds that we could raise – obviously contributing to the bursary and the scholarship coming up as well."
Stephanie Munro, CEO of the Lloydminster Region Health Foundation, in expressing her gratitude noted the Cutter Rally for Cancer organizers and volunteers work tirelessly each year to make their contributions to the chemotherapy and cancer department at the Lloydminster Hospital.
"We couldn't be more grateful for all of their contributions over the years with the different equipment that they have purchased and now with the ongoing bursary and scholarships – it's going to make a huge difference for the professional development of the nurses within that department who are Saskatchewan Health Authority employees, but our chemo ward is run by Alberta Health Services," says Munro.
The Cutter Rally for Cancer team in thanking the community and corporate donors invites everyone to circle the date for the 20th anniversary event on Feb. 24, 2024.