For one night only some Holy Rosary high schoolers will exercise their small business prowess as they host a farmers' market at the school.
Grade 12's Rose Rusteika has been developing her own craft over the last two-years and credits her mom for the inspiration.
"She has been baking for a while and just watching her when I was younger and then getting into it myself – it's just fun. I think it's actually a big opportunity – being that I'm in grade 12 and thinking about culinary school and things like that. It gives me a little bit of an opportunity."
Rusteika's specialties include vegan and gluten free options.
Some of the other young artisans seeking to test out the business world will hone their talent in arts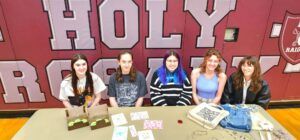 and craft, jewelry and woodworking among others.
Teacher Becky Grassl says they knew they had students at the school who were already working on their side hustle and a long list of talent answered the call for applications.
"Everything from baking to – we have somebody doing Dungeons and Dragons kits. We've got crocheting and sewing – and supper is going to be served. We've got specialty drinks. When they put their applications in, they had to submit pictures of what they were doing and I kept going, 'I want to buy that, and I want to buy that.'"
Grassl adds the school will host 28 vendors at the farmers' market on May 25 from 3:30-7:30 p.m.