Municipal taxes are up for residents and down for non-residential property owners as Lloydminster City Council passed the 2023 mill rate on Monday.
Council approved the mill rates resulting in an overall residential increase of 0.78 per cent and an overall non-residential decrease of 0.58 per cent in comparison to 2022, the city says in a release.
Also, while all other rates remained unchanged, the residential municipal rate went down from 7.1814 to 7.1785 mills, and the non-residential municipal rate eased from 12.9265 to 12.9213 mills due to assessment revisions, states the city.
Property owners may opt to receive their assessment and taxation notices electronically, states the city as it notes that the paperless option will allow easy access to assessment and taxation documents on Virtual City Hall.
Details of the new rates are shown on this chart: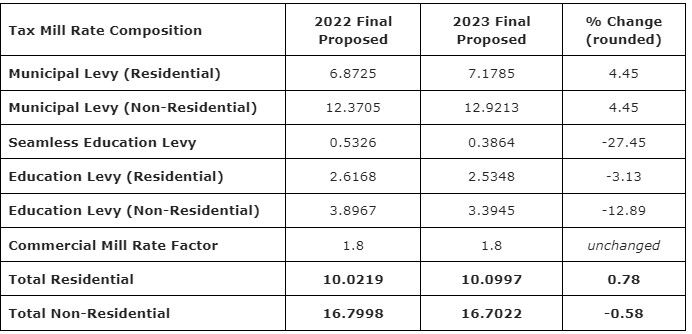 The total taxable assessment for the 2023 tax year is $4.657 billion, which is up from $4.5 billion in 2022 or a 3.4 per cent overall increase.
In 2023, with the assessment and proposed mill rate changes, the tax levy will collect an estimated $42,377,534 for municipal purposes, as approved in the 2023 budget revisions on May 8.
Tax notices will be printed and mailed or sent electronically on Friday, June 2 and are due upon sending. The last payment date before penalties is Tuesday, July 25.