For a second straight year, students at Bishop Lloyd Middle School have scored top honours in Alberta with a watershed project.
A sibling from last year's winning effort and another grade eight student won with a prototype to reduce cross-contamination of invasive species by brushing off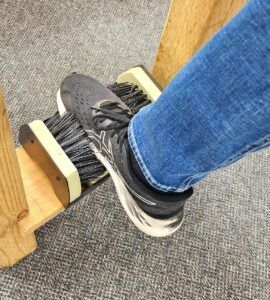 your shoes before entering, and when leaving a park or field.
Emmett Sherbinin and Cassy Setter went to Wetaskiwin on May 19 to compete in the Caring for our Watersheds top 10 finals. Their project Brush Off Invaders brought home the top prize beating out 275 other projects from across Alberta.
The students have gotten uptake from Sandy Beach and Lloyd Fish and Game Trout Pond to have their boot cleaner installed at those facilities. Sherbinin adds they are also marketing the watershed-protection to Vermilion Provincial and Bud Miller parks.
Setter explains there will be signs to encourage nature lovers to brush off invaders and protect the environment.
"It's a boot brush stand that we are implementing in big walking trail areas. So, you can brush off your boots – because one per cent of invasive species spread from your shoes when you walk. And then hopefully people will actually take the time and brush it off."
Setter adds it takes just under a week to make the boot stand and their goal is to make four.
Both students won $1000 to split between them and another $1000 for the school which Sherbinin says will go towards their canoe trip to Meadow Lake.
Teacher Derek Hyland, reflecting on the double win joked they have set a dangerous precedent for themselves.
"It's awesome to have students that can come and mentor next year's group of students about looking at our watershed and noting what are some things that are not so good and how we can make them better. It's just awesome to have an organization like this with the Caring for our Watershed project, that can take what we need to do because of curriculum and make it hands on," says Hyland.
Meanwhile, Hyland adds that last year's winners have had conversations with city planners specifically about Lloydminster Place and the downtown core. Their project dealt with managing water flow and runoff after rain.