Lloyd Comp students revved their engines and cranked the tunes as the students' parking lot spilled over for the annual Car and Truck Show.
Together with several community partners, the show has been a staple for the students since the 1960s growing from some 11 vehicles to over 35-student vehicles in more than 12 categories.
Grade 12 student-mechanic Cruz Bourassa has been working on his Chevy squarebody 1987 that he has jacked up and modified with all that a teen can manage including a sound system.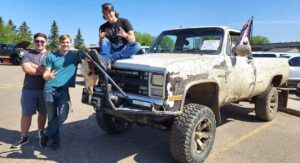 "Thirty-five inch tires – the lift kit. Kill bumper. The sound system. I did the sound system myself. I rebuilt the motor, but I'm not good with the transmission. I had RenCar rebuild it," says Bourassa.
He says he has blown one motor and three transmissions, but it gives him the opportunity to work on the truck in class and develop his passion for mechanics. His truck has come in handy to help pull people out of a jam and he says he put a lot of mileage on it.
Bourassa is keeping his career options open. He aims to get into commercial building construction and doing his mechanics on the side.
The school's community partners who include the Lloydminster car dealerships, Just Kruzin' car club and Paradise Garage among others are pitching in with prizes and judging in the various categories that include People's Choice, Loudest Stereo, Mom & Dad's Money, Best Custom Truck, Best Stock Car and Most Redneck among others.
Teacher and event planner Victoria Oldershaw sees the career path options for the mechanic students as they seek to get more apprenticeship placements with local garages.
"We have some students that are apprenticing with different companies and that's something we would like to continue – we would like it to be even more," says Oldershaw.
Paradise Garage is already on board with making apprenticeship opportunities for students in the mechanical automotive class.
When the dust settled, the judges gave Bourassa a second place for loudest exhaust with first place going to Kylie Boson. Bourassa got top honours for Most Redneck.
The Loudest Stereo was blasted by Paige Zadko and the People's Choice went to Maheen Mangla.