Over the winter months, the golf team at Holy Rosary High School will stay active on their tech-driven indoor driving range.
The school is developing a biomechanics lab and as it rolls out more studies in human movement, a golf simulator to study the golf swing is a natural fit, says Jeremy Blais, school principal.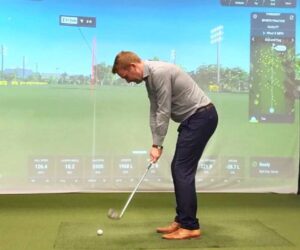 "Our senior golf team has been using it this year, and we will continue to use it throughout this school year with both our senior and junior golfers."
The school holds tryouts with about 20 athletes before choosing a golf team with about six students to compete at the regional and provincial levels.
"We use the simulator for our classes as well. So, a lot of the students have access to it, and then our golf-specific athletes have access to it," says Blais.
The school installed the golf simulator and a baseball pitching and hitting machine in August.