Two men have been arrested after hitting a police car.
On Friday, June 10, 2016, at approximately 1:20 a.m., a member of the Bonnyville RCMP detachment was on patrol in Kehewin looking for a 2007 Ford F350 pickup truck, which he had attempted to stop for speeding less than an hour before, in the same community, but it had managed to elude police.
However, the suspect vehicle was later spotted by the officer in the area of Horseshoe Road in Kehewin, when it made a 180 degree turn suddenly and sped head-on toward the police vehicle, which was behind it.
As the the road was extremely narrow and lacking shoulders or turnouts, the police vehicle was unable to avoid the oncoming truck.
The officer ended up jumping from the vehicle in order to avoid injury, just before the truck collided with the police car.
The truck then sped off from the scene, but got stuck in a nearby field, only a couple hundred meters away.
Police determined that the suspect truck had been stolen out of Glendon; it was abandoned when police arrived at where it was stopped in the field.
With aid from additional resources from neighbouring detachments, including RCMP Police Dog Services and Air Services, a search of the area concluded with a male youth and an 18-year-old woman in police custody.
The identity of the woman is not being released at this time given that such information may serve to identify the youth who cannot be named under the Youth Criminal Justice Act. However, a third person remains at large.
A warrant for arrest of 19-year-old Monte Rae Lajimodiere of Fishing Lake has been issued. The man faces the following 6 charges:
Assault a Police Officer with a Weapon;
Mischief over $5,000.00
Dangerous Operation of a Motor Vehicle;
Flight from Police;
Possession of Stolen Property over $5,000.00;
Operate an Uninsured Motor Vehicle.
Lajimodiere also has outstanding warrants from Elk Point RCMP and EPS in unrelated matters.  Lajimodiere is described as follows First Nations, about 5'2″ and 121 pounds, with brown hair and brown eyes.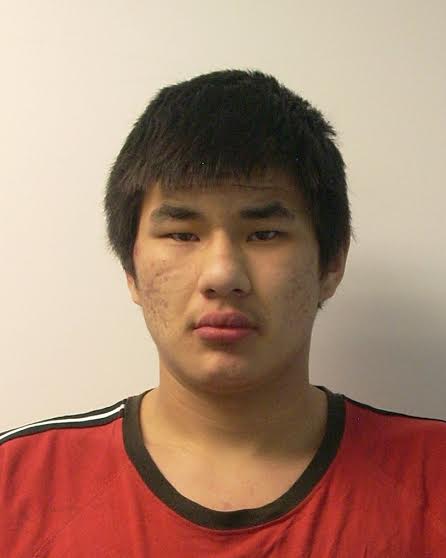 The suspect was last seen wearing blue jeans and a muddy, white, hooded-sweater.
The RCMP advise the public not approach Lajimodiere if they see him but to call 911 immediately.
Police ask for the public's assistance in locating Monte Lajimodiere; if you have any information on his whereabouts, contact Bonnyville RCMP at (780) 826-3358 or Crime Stoppers at 1-800-222-TIPS (8477).