A trio of Lakeland residents are celebrating after a pair of lottery wins in the region.
The first win took place in St.Paul where local resident Linda Conner was the winner of a $100,000 prize in the Extra lottery. Conner was the winner of the August 5 draw.
""I was looking at the lottery numbers on my computer and saw I matched most of the Extra numbers," she said, in a release supplied by the Alberta Gaming and Liquor Commission. "I screamed, really loudly. I'm pretty sure all of St. Paul could hear me!"
According to the release, Conner plans to take a trip, and is debating buying a new truck. She purchased her winning ticket at Weasel's Confectionery, located at 5100 50 Avenue in St. Paul.
As for the two other winners, Benjamin and Baillie Cowden in Ardmore, Alberta, north of Bonnyville, are going to be taking home $500,000 after picking up a Triple Platinum scratch ticket in August.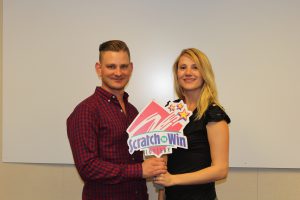 "We picked up the ticket at the store and brought it home to scratch it," said Benjamin, in the release.
"We were looking at the ticket in total denial." "We couldn't believe what we were seeing," said Baillie.
The couple plan to use their winnings to pay off some bills and invest. The Cowdens purchased their ticket at the M & M Mini Mart, located at 4815 50 Street in Ardmore.