Liqour store development in the Border City has gained some breathing room.
On Monday, members of city council were presented with an item from municipal administration, asking for a previously-discussed boundary on liquor store development in Lloydminster to be changed. The limit, which had been introduced by Councillor Jason Whiting to be added to the draft land-use bylaw, set any future liquor stores to be located at least 300 metres from any schools or public parks within the city.
Whiting explained his motivations for introducing the amendment after the meeting on September 22, stating that he wants to see the pace of liquor retail development in Lloydminster slowed down.
"There is a lot, we can all agree," said Whiting, at the time.
"It's been commented to me, by residents, by visitors, by many people, so I think is just one way to be kind of, pull back the reins."
Whiting also acknowledged the existing liquor stores in Lloydminster, which will not be affected by the rule change unless the businesses were closed and wanted to re-open in the same function.
During Monday's meeting, council changed the limit to a distance of 100 metres, after viewing two maps showing the impact of 300 metres and 100 metres on the city.
The first map, showing the 300 metre impact, can be seen below.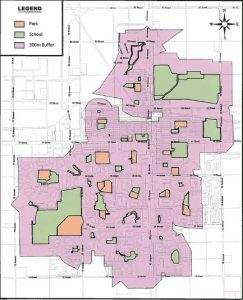 The second, showing the 100 metre impact, can be seen below.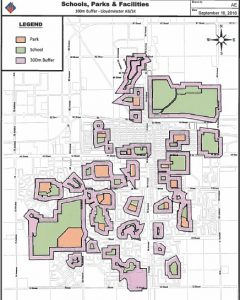 After the meeting, Whiting indicated he agreed with council on 100 metres being a good distance from public parks and schools. However, he had said in the council chamber that he was 'disappointed' with administration.
"Being that I brought it forward, I would have liked to have had a conversation about other ways we can address the alcohol usage, the alcohol retail stores, and how we can look at other ways that we can ensure that we are not providing too much ability to access liquor stores in our city, and other things that other cities are doing," said Whiting.
He also indicated he would not want to see the return of a 300 metre limit.
"Not maybe that, specifically, but maybe there's things about the distance separation between other liquor stores, the hours of operation of liquor stores, as an example," said Whiting.
"There are many, many things to talk about, and I think that will come in some future times."
The amendment received first reading on Monday.