UPDATE:
The following press release was issued by the RCMP at 1:30 a.m.
This is a de-activation of the Amber Alert system.
At 12:55 a.m. on September 29, 2016, Wakaw RCMP members located the
suspect vehicle at a residence in St. Louis, Saskatchewan.
Investigators then located the two missing children at this residence
and an adult male was taken into custody.
There is no indication the children are physically injured; however, as
a precaution arrangements are being made to have the children looked at
by health care professionals.  Arrangements are also being made to
return the children to their families.
---
The La Ronge RCMP have activated the Amber Alert system to help find two young boys.
The the first victim in the matter is 8-year old Conner Arthur Ratt, who is eight years old. Ratt is described as an Aboriginal male, standing 149.86 cm tall, and weighing 22.5 kilograms.  He has black, shoulder length hair, and was last seen wearing a black coat with white square pockets, blue jeans, long sleeve grey shirt and Velcro shoes.
The second is River Roberts, a ten-year old male. He is described as Aboriginal, standing 157.48 cm tall and weighing between 27.22 and 31.75 kilograms. He has black hair, cut in a brush cut, and was last seen wearing a green t-shirt, a white and green winter coat, blue jeans, and grey high top skate shop shoes.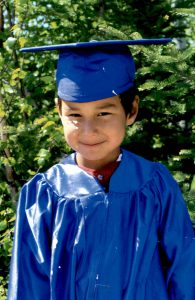 Police believe the children were taken by Jarrod John Charles. He is described as an Aboriginal male, 18-years-old.  Police say he stands 183 cm tall, and weighs 86 kilograms.  He has black shoulder length hair and wears glasses.
Police believe he was wearing a black hooded sweatshirt.  A recent photo of Charles is attached to this story.
The suspect may be driving a grey, 2001 Dodge, Grand Caravan, with Saskatchewan licence plate 072KDL, and investigators believe the vehicle may be headed to Prince Albert.
If you have information about this incident, call 1-877-SOAMBER or 1-877-762-6237 or e-mail [email protected].ca