The City of Lloydminster may have some difficult financial decisions ahead of it.
The operational deficit in Lloydminster's 2017 budget is expected to sit at $10.5 million, according to the draft budget attached to the council agenda for Monday's final meeting of the current council.
The documents are meant to be accepted as information by the council, and indicate that the 2017 budgeting process will aim to identify immediate and long-term priorities.
In the documents, the deficit is also described as a challenge that will be addressed by engaging with residents and elected officials to develop "further deficit reduction opportunities", which will then be included in the second draft budget, to be presented to the community and the new council on November 28, 2016.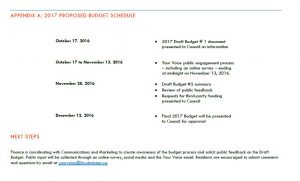 "The City recognizes the need for enhancements in long-term financial planning and will develop fiscal policies and procedures, with the direction of Council, to ensure success," reads the document.
Included in the documents are five project updates, with the Community Hub, the wastewater treatment plant, the Highway 17 corridor, transit, and transparency and accountability listed.
Under transparency and accountability, the recent addition of accounts payable information to the City website is described as part of the project.  Prior to August of 2016, this information was not readily available to the public.
"This information will continue to be updated going forward," reads the document.
Also included in the budget documents are a number of ways in which the deficit could be reduced, four of which are listed as decreased service levels, user pay, the sale of assets, and a tax increase. The sale of the former Public Works Shop and the deferring of equipment transfers are also included.
The projection of a deficit for 2017 is not the first time the City of Lloydminster will have run an operational deficit, though it will have been the largest in the last seven years.
According to a nine-year history of the City's finances attached to the draft documents, operational deficits took place from 2009 to 2012, followed by a pair of surpluses in 2013 and 2014. An operational deficit of $10,392,815 was run in 2015. Figures for 2016 were not included.
The draft budget will come before council on Monday afternoon.