The official results for Lloydminster's election have been released by the municipal government.
According to the results, a total of 6,085 voters made their way to the polls during the election, including advance polls. The voter turnout was pegged at 30 per cent, which was 20 per cent higher than the previous turnout of 2,934 back in 2012. A total of 42,420 votes were cast for all mayoral, council, and Lloydminster Catholic School Division trustees.
Acting City Clerk Doug Rodwell said that he was pleased with the turnout, though he would still like to see it "much higher". He also said the numbers for 2016 were what he expected, after seeing the turnout at the advance polls.
As for the failure of the City website after the closing of the polls, Rodwell said it had been planned for as a contingency.
"We had Plan A, B, C, D, and even up to E," said Rodwell.
"Social media was our backup and that is where we went to. I don't know if there is any way that we could have tested or prepared for that. We contacted our website provider; we asked that they be prepared for a higher level of traffic. Unfortunately, what happened, happened, and you just adapt and go forward."
The official numbers for the mayoral race show mayor-elect Gerald Aalbers coming away with 4,081 votes, followed by outgoing councilor Jason Whiting at 1719. The third mayoral candidate, Cheryl Ross, received 207 votes.
---
In the council race, the six winning candidates were all in the 2000 vote and above range.
The council totals are listed below.
Ken Baker- 3737 votes- elected
David Benoit- 1916 votes
Stephanie Brown Munroe- 2135 votes- elected  
Aaron Buckingham-2239 votes-elected
Lachlan Cummine-1382 votes
Michael Diachuk-2552 votes-elected
Glenn Fagnan-2441 votes-elected
Brian Hanterman-751 votes
David Hennessey-795 votes
Bill King-1313 votes
Laurie Makichuk-1379 votes
Gigi Rempel-495 votes
Gerry Rollheiser-418 votes
Wayne Ross-311 votes
Don Schille-1549 votes
Sheldon Servold-1114 votes
Jonathan Torresan-3162 votes-elected
John Van Kleemput-517 votes
Erwin Warkentin-460 votes
Riley Weinrauch- 518 votes
Daryl Wright- 1178 votes
---
In the contest for the Lloydminster Catholic School Division, the seven winning candidates were all above 650 votes.
The trustee totals are listed below.
Chris Carnell-727 votes-elected
Calvin E. Fendelet-812 votes-elected
Lisa-Marie Harris-611 votes
Erin MacDuff-701 votes-elected
Laurie Makichuk-769 votes-elected
Christopher Rehman-320 votes
Michelle Rusteika-750 votes-elected
Paula Scott-697 votes-elected
Jill Wytrykusz-664 votes-elected
---
A full poll by poll breakdown was also included in the election information released by the City, which shows the support levels each mayoral candidate received across the polling stations in Lloydminster, including advance polls. We have taken the data and put it into charts.
The first is the mayoral chart.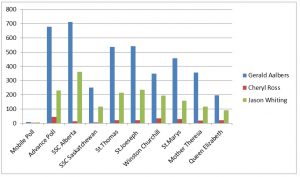 The following are the council charts.