The City of Lloydminster has not disclosed what caused the Synergy purchase to fall through.
The failure of the purchase was announced with a press release sent out on Tuesday afternoon from City Hall, which stated that the purchase agreement for the building had been rendered null and void.
"The purchase of the downtown Synergy Credit Union building was subject to certain conditions in favour of the City of Lloydminster," read the statement from the City.
"The City was not in a position to remove or waive the conditions on or before October 26, 2016 and as such, the purchase agreement has been rendered null and void."
A statement from outgoing mayor Rob Saunders was also included in the original release. Saunders expressed hope that the vision for the Community Hub project would be "preserved."
He also said it would be important for the City to look at new ways to enhance the downtown core.
"By working together with the Synergy Credit Union we hope to create an attractive, inclusive community space for the benefit of residents and visitors."
During a press conference, Saunders did not go into detail about what conditions in the contract were unmet, choosing instead to not discuss the process.
"I'm not going to speak to those today, I'm unable to do that in respect of our business partners," said Saunders.
"When we negotiate in good faith and with legal, contractual arrangements, those things are kept between the two parties."
According to the documents attached to the July 25, 2016 meeting of city council, there were three conditions on the purchase of the Synergy building, including a building inspection.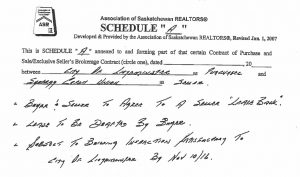 The deadline on the conditions being met was October 26, 2016.
Saunders also said the financial impact of the decision will be determined, and that administration advised the outgoing council about the conditions not being met on Monday.
He also said that he felt the nullification of the purchase will not impact the relationship between the City and Synergy Credit Union.
"Synergy Credit Union is a prime business partner in our community, and as I mentioned, we look forward to as a city, working with them in the revitalization of downtown," said Saunders.
As for the incoming city councillors and new mayor, Saunders said they were not informed. He also did not indicate any preference for a new Hub location.
"I will leave that up to the professionals and the experts," said Saunders.
"That particular site was landed on by professional consultation, in support of all the downtown businesses. Once again, it's a big piece to the downtown, and will continue to be a big piece to the downtown."
He also indicated he believed the next council would be willing to take further discussion on the matter.
Due to the contract now being voided, the full $250,000 deposit on the building will be returned to the City in full.