The City of Lloydminster officially has a new slate of leaders.
On Monday evening, the newly-elected mayor and council were sworn into office. The ceremony was brief, with the then mayor-elect Gerald Aalbers and the new council being led into the government chambers by an honour guard of two RCMP officers.
After being seated in front of the council seats, the mayor-elect and the new council members were called up, one by one, to take their oaths of office and take their place around the chamber behind their council chairs. At the end of the swearing-in process, the new members of the municipal government took their seats.
The now-sworn in Mayor Aalbers gave a speech after the swearing in, discussing the commitment to honesty and transparency made by both himself and the new council, and the economic challenges facing the city. He also indicated he was looking forward to working with residents of the city in the years ahead.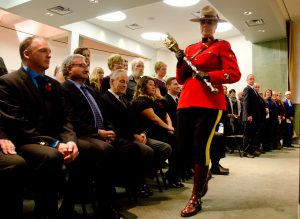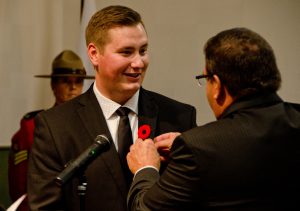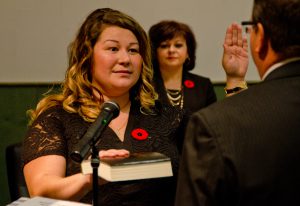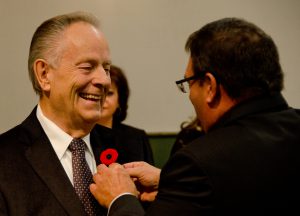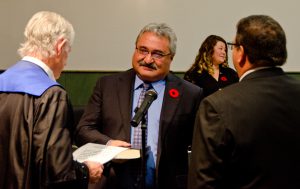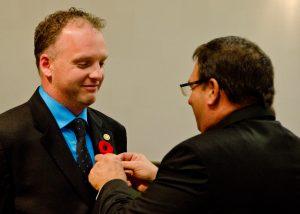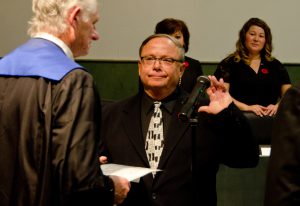 Reached after the ceremony, Aalbers said the new council has had a chance to meet socially, to get to know each other. He also said orientation for the new council will be starting on Tuesday. As for his 30, 60, and 90 day benchmarks, which he had discussed during the election campaign, Aalbers indicated he was working on them.
"I'll be honest, I don't have them down in stone yet, because certainly I wanted to get a grasp of administration," said Aalbers.
"Throughout the campaign, there was a lot of discussion, a lot of questions, and I know that I have expressed some questions already to administration, and we will be addressing those questions. Every councilor has questions that they are going to want addressed, and we're going to start addressing those."
Aalbers also expressed relief about the Synergy Credit Union building purchase being cancelled.
"It is a relief, that it is that way," said Aalbers.
"I'm sure that there will be other discussions going forward about other opportunities or options. The library still has to be dealt with, I know they would like to move, and somewhere along the line we'll address that, but it is not going to happen tomorrow."
Aalbers described his move from candidate to office-holder as an eye-opener, and also said he has received "high level" updates about the current work of the municipal government, the contents of which will be going to council in the near future.
"The direction I'm giving administration is whatever I see, council will see, so we will be brought up to speed together," said Aalbers.
"It's very important that everybody knows, and as that disseminates out, we will be sharing that with the public as we can. There are certain things, that I will do my best, and be as forthcoming as I can, and I'm sure council members will be the same way, sharing the information that people ask. As we talked about today, the sooner we can get the information out to the public, everybody knows what they need to know."
The only returning member of council, Ken Baker, was visibly happy and enthusiastic during the swearing-in, and said he was happy with his fellow council members.
"I've talked to them all, we've had some good conversations," said Baker.
"These people can think for themselves, it's just a matter of filling them in on certain things, and my word to them is to take whatever I give them, digest it, do your own research, make your own decisions, because my decisions aren't always right, and I know that."
Baker will be the sole member of council with procedural experience, as the new mayor and council members have never before held elected office. According to Councillor Aaron Buckingham, however, the six new members will have a lot of work to do.
"(We're) starting to do a little bit of orientation, and we have to hit the ground running," said Buckingham.
"We have a council meeting one week from today, so there is a lot of work to do. People talk about learning curve, I say no. I say learning vertical, there is not much curve. It's get in there, and get to work."
The first council meeting will be November 14, at 1:30 p.m. at City Hall. It will be live-streamed for those not able to make it in person.