Gerald Aalbers is getting used to the mayor's chair.
He and the rest of city council were elected almost a month ago, and the difference between running for office and actually holding it has become clear.
"We don't go to school for this, this is a whole new process," said Aalbers.
The first two weeks have been a blur of meetings, like with Danielle Larivee, the Minister of Municipal Affairs. Aalbers says they focused on the newly-updated Municipal Government Act, and how it could apply to Lloydminster.
Work is also ongoing on the extension to the wastewater treatment plant construction deadline. Aalbers says the extension on the deadline is a "work in progress."
"Where am I at today, is we need to make sure myself and council understand exactly where we're at as a city, where administration has got to going forward," said Aalbers.
"It's not a briefing note, or a five minute conversation that we can have, because there are multiple facets to it."
He also said that the municipal administration had been leading the charge on the plant, and that city council would continue speaking with other levels of government on the matter.
"It's (the deadline) there, and we know it's there," said Aalbers.
The issue has also been discussed with Saskatchewan-side MLA Colleen Young.
"Colleen and I have talked a couple times since, and she is quite aware of it," said Aalbers.
"I believe that Colleen will be able to help assist us with our process, and help us work through that process, because it's not just in Colleen's hands."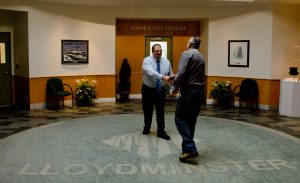 One of the most pressing issues for the new council will be the upcoming budget. Aalbers doesn't have details, but says it's in the works.
"I believe that I can safely say that administration is working diligently at coming together with a budget that we as the residents of Lloydminster and the council for the city will be able to bring forward, and in essence, deliver a budget that people understand, and will provide for the needs of the city as best as possible," said Aalbers.
Aalbers had also mentioned bringing in changes to the administration of the municipal government, during his campaign. He says nothing has been discussed yet, but it's hoped things will get started in the next month.
"You can come in with a blazing gun, or you can work cooperatively," said Aalbers.
"The first opportunity that I get, we'll sit down, and we'll start that process, because we need to understand how things have been done, before you would go in and make huge changes."
Aalbers launched his campaign with questions about the AHHA Moments Inc. contract signed between the City and former mayor Jeff Mulligan. He says he won't be personally digging into the issue, but there will be discussions on the documents.
"We're going to deal with the past, but in what timeframe, is it going to be in 30 days? No," said Aalbers.
"It's going to take some time, because I think the priorities that I now realize, sitting in the chair as your mayor, the priorities that I believe people would want me to work on, is "Gerald, let's make sure you get the budget right." We will get to some clarification, because I think that is really what it is, to clarify, but I can't make that a priority, based on what I've seen, sitting in the chair."
Aalbers says he believes residents of the city elected the new council to deal with future issues, but they'll also take a look at the past.
"We'll make sure, and that's my personal commitment, is that we take a look, and make sure that we don't repeat the things that we didn't do so well in the past," said Aalbers.
"That's what we will do, we'll get there. When that is going to happen, I don't have a firm answer today."
Aalbers says he appreciated the support of the public, and encouraged residents to feel free to ask questions.
"Can we get better? We can always get better," said Aalbers.
"Everybody can always have improvement, so I think with that in mind, I'm really looking forward to getting out and chatting with people, because that's the important thing as well."
He says he is aiming to be available to the public as much as possible.