Tuesday was a great day for local cattle producers at the Agribition.
Lloydminster's Randy Noble was crowned champion of the President's Classic – a competition that saw his bull calf, exhibited by Black Gold Simmental, defeat all other breeds of cattle. Furthermore, Twisted Sister's Meghan Hoffman and Brianna Kimmel placed first in the First Lady Classic Futurity competition.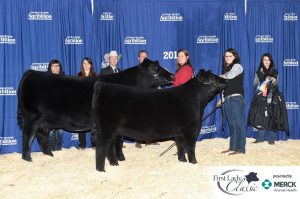 However, it was not just producers who found success at the Agribition.
Lakeland's Jess Verstappen won the Canadian National 4-H and Youth judging competition. She competed against other national judges, as well as international students. This is her third year on the collegiate team, but judging is never something she originally saw herself doing long term.
"At first, I didn't really understand or like it, but my mom pushed me to keep going with it because she thought I had a natural eye for it," said Verstappen.
"After getting the hang of it, I really began to enjoy it"
In the future, she plans to continue giving clinics to 4-H students, so that they can find the same success as her.