The City of Lloydminster is trying to eliminate its operational deficit.
A number of methods have been proposed to further reduce the deficit, including asset sales, a four per cent raise in property taxes, and the deferral of equipment replacement. The finding of "efficiencies" has also been raised as a tool to balance the budget, and two City employees have been laid off, as well as two positions going unfilled.
The City is also approaching the local branch of the Canadian Union of Public Employees (CUPE), in order to secure of a Letter of Understanding that would change the current collective agreement between the union and the municipal government.
The current agreement was approved after quick negotiations in March of 2015, and is in place until 2018. Under the deal, union workers had a wage increase of three per cent in 2015, with further raises of 2.75 per cent set for 2016, 2017, and 2018.
According to a presentation made to the union on Nov.29, 2016, two changes are being sought by the City. The first would be the creation of a "Summer Student" salary band, which would become part of the collective agreement. In 2017, workers in the salary band would be paid $15.00 an hour, which would then increase by 2.75 per cent in 2018 to $15.41.
The projected cost savings from the change are pegged at $225,000 per year.
The second change is the implementation of a mandatory five-day "deferred leave" per year, across all City employees, in 2017-18. Under the deferred leave system, two per cent of employees pay would be held, to be used when the employee would be off on deferred leave, in a total of 25 pay periods.
Employees in City facilities that close between Dec.25 and Jan. 2 would be expected use a portion of their leave in those off periods, while employees working in facilities that stay open year-round would use the leave during the calendar year. The projected cost savings from the change are expected to equal $450,000 per year.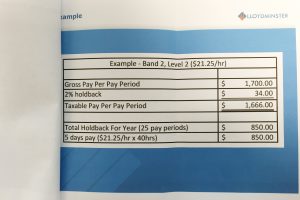 In the City's presentation, the total cost savings from the changes are set at $675,000 per year. The proposed changes are also said to not impact service levels, and were included in the second draft budget presented to city council on Monday.
According to Roxanne Shortt, the president of CUPE Local 1015, the union and the City are working together in the current economic climate in order to a deal that works for fiscal responsibility. However, as the union will be meeting on Thursday to vote on the changes, she did not wish to comment further, to avoid influencing the voting.
However, she did say that if the changes were rejected, it would be up to the municipal government to decide what to do next.