You could be paying a little more to use City recreation facilities in 2017.
During Monday's council meeting, a proposal for the raising of admission fees for public recreation facilities was brought before the assembled councillors. Under the proposed rate changes, an average rise of 25 cents would be brought in across a large segment of City recreation facilities.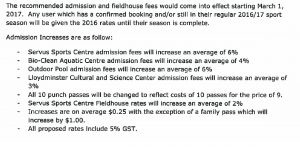 A motion to approve the rate changes passed without opposition in the council chamber. After the meeting, Mayor Gerald Aalbers said that costs continually go up, and brought up the carbon tax as an example.
"It's important that we realize that costs do go up, on anything and everything," said Aalbers.
"Simply the price of fuel is one of those fluid items, the price of energy without a carbon levy. I think that people can appreciate, that 25 cents, it's going to have to come from somewhere. In perspective, we try to keep it as reasonably as we can."
Don Stang, the Director of Community Services for the City of Lloydminster, told the assembled councillors that the carbon tax costs were built into all facility budgets for 2017.
Council had also noted that Lloydminster arenas were not included in the rate rise. The response from administration was that consultation is underway with users of the arenas, and rate rises were anticipated for those facilities as well.
If the changes pass final approval by council, they will come into effect on March 1, 2017.