Lloydminster city council has signed off on a governance audit of the municipal government.
Council had initially voted to contract with George B Cuff and Associates back on Feb. 13, 2017, following an in-camera session of council after the regular public meeting. After that in-camera session, council had resumed and a motion was brought forward by Councillor Michael Diachuk, and seconded by Councillor Glenn Fagnan. It was worded as follows.
Resolved that in the interests of ensuring that Council is providing constructive and useful leadership to the organization while seeking the input of a cross section of its administration and all members of Council, that Council contract with George B Cuff &Associates Ltd. to develop and provide a Governance Audit for the City.
The motion was originally. Discussing the audit on Friday, Lloydminster mayor Gerald Aalbers indicated the audit could bring in a "different flavour" to learning about how to govern.
"I think there is certainly a question of where does everybody fit into this process," said Aalbers.
"New management at the top end in the form of city council, we're trying to make sure that we do it right. We can look to administration, and they've done a very good job of leading us through the processes at the beginning of what is the expectations of city council, they're pretty cut and dry. But by the same token, by bringing someone with the expertise that George Cuff has, it will give us a little different flavour to this whole process."
The next step in the process was to bring the audit to the council chamber for council to approve the move. This took place on Monday afternoon. During the meeting, city administration brought up the option of a "Core Review" costing $100,000 to $200,000, instead of a governance audit at around $70,000. However, council ultimately chose the audit in a sole-source contract with Cuff, instead of a competitive process for either option.
The decision came after discussion around the table, with Councillor Stephanie Brown-Munroe being the lone opposing vote. Speaking in the chamber, Brown-Munroe had voiced concern about going with a sole-source contract as opposed to a competitive process. Despite her concerns, the vote from council was in favour of Cuff coming in.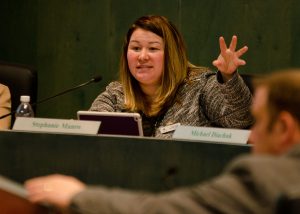 Speaking after the meeting, City Manager Glenn Carroll said council wanted to have a better understanding of how they should govern Lloydminster. He also did not have any particular areas of the municipal government he would want to see examined in the audit.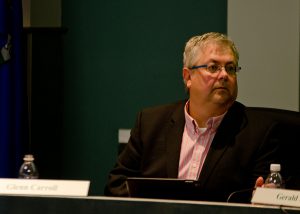 "It's never a bad thing to have a good look at your organization from time to time, and any recommendations that come forward, we'll certainly look at implementing them, based on councils direction," said Carroll.
Carroll also said he didn't think there was any tension between council and administration about the audit.
"We had a talk about it a couple weeks ago, and everybody said 'yep, good idea, let's get in front of it,' you saw one of the directors today just brought in some other options just to make sure they were doing the right option for themselves," said Carroll.
As for past decisions of the municipal government coming up in the audit, Carroll indicated he didn't know what to expect.
"I can't even tell you," said Carroll.
"I don't know what he's, he's going to ask a lot of questions, I'm sure, and so he should. What those recommendations will be will certainly be between George, council, and administration."
The audit will begin on March 13.