Another year, another parade in the books! People were out early lining the streets trying to get the best spot.
Parade Organizer Larry Olynyk says the parade is always a great way for the community to come together, and an event he holds dear.
"Myself, we moved to this town when I was five years old, and I think I've only missed one parade in that whole time. As a matter of fact, I've had a couple of jobs in that time that I would have quit, had they not let me go to the parade."
Mayor Aalbers was in agreement, saying that it was good to see the whole community out for such a fun event.
"When you see people four or five deep along the parade route in some places, it was excellent. Everyone was smiling and just glad to be out."
When talking to some of the kids watching the parade, most had the same favourite part.
"Candy!"- Adele, 4 years old.
"Candy!"-Harper, 4 years old.
"Candy!"-Angie, 22 years old, okay that's just me.
Eight year old Garrett says, "my favourite part is the ATV's and I like that kind of stuff." He also adds that he got a lot of candy.
Ten year old Jenna says, "I like the parade 'cause the animals that come by and the floats and candy and when you high five people."
Eleven year old Lincoln was one of the few not to mention candy but he says, "I like the parade because of all of the floats coming and there's music, it get's really fun to watch all the stuff come by."
The Goat had two cars in the parade this year, one featuring our stuffed goat Bella.
For the first time ever, the LGBTQ+ Society of Lloydminster also had their own float. It won first place in the non-commercial category.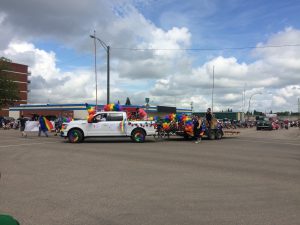 The rest of the Colonial Days activities are being held at the Exhibition Grounds.